Your Complete Guide to Dog Care and Dog Training.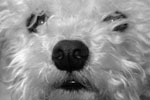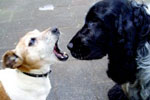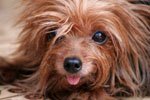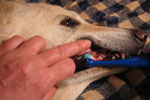 Instincts and Behavior
The World from the Dog's Standpoint
Behavior
Socialization and the Learning Process in Young Puppies
The Five Critical Stages in a Puppy's Life
SOCIALIZATION AND THE LEARNING PROCESS IN YOUNG PUPPIES
Up until a few years ago, a puppy under 6 months of age was not supposed to have any set behavior pattern. He was more or less expected to learn a few rules (such as using his newspapers or going outside) and gradually develop his sociability, reaching his peak when about a year old. He was not of school age. A young pup's life was spent in playing, eating and just physically growing up.
The story is different today. Dr. Scott and his group found that the learning and socialization process begins very early in the pup's life. Young puppies are ready to learn and adapt to their environment when they are from 19 to 20 days old. One of the major conclusions of Dr. Scott's experiments was that there are five critical stages in a puppy's life. And all of these stages occur before a pup is 4 months old.
Your Complete Guide to Dog Care and Dog Training.